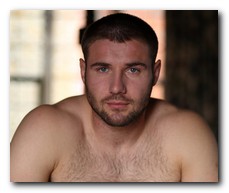 Ben Cohen article posted in Seattle Gay News
British rugby star Ben Cohen visited Seattle this past weekend as part of his tour to promote the StandUp Foundation.
StandUp
"The StandUp Foundation is meant to help stop bullying in the LGBT community. It's about making a difference," Cohen said. "It's about standing up for what I believe in and what I'm passionate about. I started the foundation for those exact reasons."
The StandUp Foundation is the world's first anti-bullying organization. Cohen himself is the first straight sports star to focus his philanthropic efforts on the LGBT community.
"I've always had a big gay following. I've found that I'm in a position to where I can actually make a difference in peoples' lives," Cohen said.
In 2008, he replaced David Beckham as Gay Times' sports personality of the year and came in second as their sexiest man of the year. He also appeared in Attitude, a best-selling gay magazine in Britain, and has supported Gay Men Fighting AIDS (GMFA), a British charity.
The Ben Cohen Acceptance Tour went from May 19 through May 29. Cohen visited four cities when gay and/or gay-friendly rugby clubs. While in Seattle, Cohen supported the Magnitude Tournament and also spoke at the University of Washington and the Madison Renaissance Hotel.
Cohen and Rugby
Cohen started playing rugby professionally with the Northampton Saints at 17. During his 11 years with the Saints, the team won the Heineken Cup, and then he went on to win the World Cup with England in 2003. He later moved to France and joined CA Brive before returning to England, where he spent two years with the Sale Sharks.
He recently retired from rugby to focus on his philanthropic career.
"There are lots of different things going on," Cohen explained when asked about his future plans. "There's a TV program, we're doing some more touring, working with the HRC, Campus Pride, Matthew Shepard Foundation, and It Gets Better, so we're doing a lot of stuff with them and I've also got a coaching guide coming out and will be visiting more schools and colleges and talking more about putting a stop to bullying.
"Basically, we're trying to affect the younger generation. They're going to be the decision-makers of tomorrow and the parents of tomorrow."
Cohen will be staying within the rugby arena as much as possible. He is excited about standing up for equality and making a difference.